Enjoy a rewarding career as a Health Administration Leader  
If you possess natural leadership skills and are seeking your next challenge, why not explore a leadership role in health administration? As healthcare facilities continue to expand throughout Australia, there is an ongoing need for new health administrators. Studying a HLT47315 Certificate IV in Health Administration, a specialised hospital admin course, will make you a formidable candidate for leadership roles within this thriving sector.
As a Senior Health Administrator, you would be responsible for planning, organising, and coordinating the administrative aspects of health and welfare services. These tasks include maintaining client and financial records, managing information and resources, and contributing to innovation in the workplace. Our hospital administration course also provides you with specialised healthcare skills, including medical terminology, methods of implementing infection control policies and work health and safety processes. Furthermore, the HLT37315 Certificate IV in Health Administration provides the necessary knowledge and training to succeed in supervisory roles, overseeing operations and effectively leading an administration team. 
This nationally accredited hospital administration course provides the necessary qualifications to prepare you to work in a variety of health administration supervisory roles such as an Administration Supervisor, Clinical Services Team Leader, or Medical Records Section Leader in medical institutions such as clinics, hospitals, community health centres and private practices. 
Once you've attained this online healthcare qualification, you can then continue your studies and expand your career opportunities with a HLT57715 Diploma of Practice Management. 
Studying the HLT47315 Certificate IV in Health Administration will have you ready for management and supervisory health administration roles within 12 months. The course material is delivered entirely online through Foundation Education's online learning platform, My eCampus, allowing you to choose when and where you study.  
The HLT47315 Certificate IV in Health Administration is a Nationally Recognised course. 
Course Outcomes
The qualification gained from completing the HLT47315 Certificate IV in Health Administration is nationally recognised, enabling you to upskill to leadership roles in health administration anywhere in Australia. The following in-demand roles are just an example of the career outcomes possible with this course.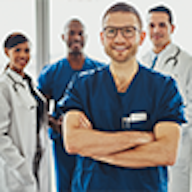 Clinical Services Team Leader
A Clinical Services Team Leader is responsible for supporting and managing the clinical services team, providing reinforcement to relevant departments, and assisting in the day to day running of the services offered by the clinic. You will also be responsible for liaising with relevant stakeholders and will act as a resource to care staff regarding aspects of clinical practice and care.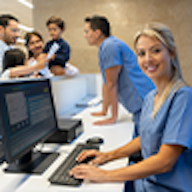 Senior Admissions Clerk
This role requires the autonomous performance of various clerical duties, including pre-admission bookings, arranging, and recording admissions details, answering calls, and resolving patient complaints. Your role may also include such administrative duties as word processing, data entry, mail dispatch, filing, and photocopying.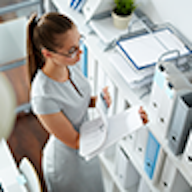 Medical Records Section Leader
A Medical Records Section Leader has a vital role in taking responsibility for medical data and leading a team to manage patient records and accounts. You will respond to general enquiries, and handle requests from patients and physicians. You may also be assigned the job of assisting with internal and external audits and managing the security of patient files and computer databases.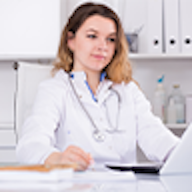 Senior Administrative Worker
A Senior Administrative Worker performs a wide range of administrative tasks under direct or indirect supervision in hospitals, community health centres or private practices. You will be responsible for meeting and greeting clients, scheduling meetings and appointments, and ensuring the clinic or practice is supplied with stationery and other supplies.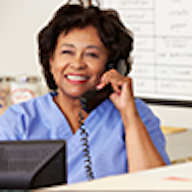 Senior Ward Clerk
A Senior Ward Clerk is responsible for the clerical and reception duties of a hospital ward or clinic. You will be tasked with ensuring all medical and patient records are completed correctly, kept confidential and are available to Doctors and Nurses as required. 
Please note: this course is currently in a transition period (superseded due to Government-mandated updates), with our updated course due for release in the next few months. Rest assured, completion of this course version before 31 July 2024 will still provide you with a valid and quality outcome. If you have any questions, please do not hesitate to contact a Career Advisor on 1300 616 197.
Course snapshot
Qualification
Certificate IV in Health Administration
Delivery structure
Theoretical Elements:
Study the theoretical elements of this course, anywhere and anytime through our online learning platform.
Study load
14 course units to complete. 

Complete one course unit every

2 weeks to graduate in 12 months.

Delivery Structure
Studying the Certificate IV in Health Administration with Foundation Education is flexible and can be tailored to suit your needs.
1. Theoretical
Study the theoretical elements of this course, anywhere and anytime through our online learning platform.
14 course units to complete.
Completed online, at your own pace.
Resources Required
For the online part of the course, you'll need regular access to:
Computer: Laptop or desktop computer with working speakers or headphone points.
Internet: High-speed internet such as Broadband or ADSL, T1/T2, fibre optic (Dial-up access is not recommended).
Windows: Operating system – Windows 8 or above.
MAC: Operating system - OS X 10.14 Mojave or later.
Internet Browser: Google Chrome, or Microsoft Internet Explorer 11.
Software: Flash, Adobe Reader, Microsoft Word (or Open Office which is free to download).
Office Equipment:  Printer and scanner to print and upload some of your assessments.
Mobile Phone with Video Capability or Video Camera: Some assessments in your course may require you to take and submit videos of you undertaking tasks for assessment.
Units
Achieve your qualification by completing the following units of competency:
Certificate IV in Health Administration
Cost & Payment
You can pay for your course upfront via VISA/MasterCard or a bank deposit. Alternatively, we offer instalment plans that can be paid over several weeks or fortnights.
Your course fee includes
Delivery and assessment of your qualification
Study materials (including all resources)
Ongoing support from our Education Team
We offer two payment methods
Full fee upfront
Instalment plans
For more information about the course costs, please call us on 1300 616 197.
You May Also Be Interested In