Further your career in dental health with a Certificate IV in Dental Assisting
Have you already attained a Certificate III in Dental Assisting? Are you looking for more responsibility? Want to progress your skillset to a higher level? A Certificate IV in Dental Assisting could be the perfect course for you. Suited to individuals with strong communication skills, a caring nature and a willingness to learn, a Certificate IV in Dental Assisting will prepare you for numerous employment opportunities in the healthcare sector.
The HLT45021 Certificate IV in Dental Assisting reflects the role of dental assistants that provide an advanced level of assistance to dental practitioners which directly contributes to the quality of oral health care. Your main focus is to ensure your patients are comfortable and to provide the highest level of care while they undergo treatment. The course covers a variety of highly interesting and practical units that are directly applicable in a dental practice setting. This includes further developing skills in areas such as interpreting and applying medical terminology, taking clinical photographs, sterilising equipment and correctly managing sterile stock.
The Certificate IV in Dental Assisting is delivered online by Foundation Education, making it a flexible study course option for those already working in the industry. It takes just 12 months to complete the course and there are no set workplace hours to complete – although you will need access to a suitable dental practice to complete the assigned practical tasks. You can receive your qualification in just a year's time and be fully prepared to apply for dental assisting jobs.
Job Outlook predicts that the number of dental assistant workers in Australia will continue to be in high demand in the future. It's likely that by 2025, there will be 19,600 dental assistants employed across the nation. Most dental assistant jobs fall into the healthcare and social assistant industries. According to Talent.com, the average dental assistant salary in Australia sits at $59,640 and climbs to $68,256. This is a rewarding and highly sought-after career pathway that offers a lot of employment opportunities and growth for the future.
If you've already achieved a HLT31812, HLT35015 or HLT35021 Certificate III in Dental Assisting, you can apply for the HLT45021 Certificate IV in Dental Assisting and progress your career in dental health today.
*Source: joboutlook.gov.au
The HLT45021 Certificate IV in Dental Assisting is a Nationally Recognised course.
Course Outcomes
A HLT45021 Certificate IV in Dental Assisting prepares you for a variety of roles in dentistry assistance. With this advanced qualification in your possession, you'll be suitably qualified to work in a range of clinical settings and sectors. Whether your interests lie in public or private health, there are a several employment opportunities available to you upon completion of this course.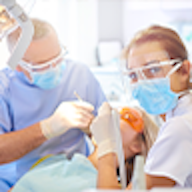 Dental Assistant
Dental assistants will assist dentists, hygienists and therapists with a mixture of dental procedures. Their responsibilities include but are not limited to prepping for procedures and cleaning up afterwards, assisting through the duration of the treatments (such as passing instruments and operating the suction apparatus), developing X-rays and carrying out general administrative duties.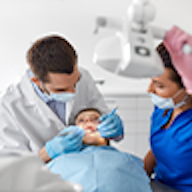 Dental Therapy Assistant
As a registered healthcare professional, a dental therapy assistant specialises in the oral care of children and teenagers. Their main role is to provide help prepping young patients for examinations and treatments to improve productivity in the workplace. Dental therapy assistants focus on patient care and ensuring patients feel comfortable and receive all the necessary information regarding their examination or procedure.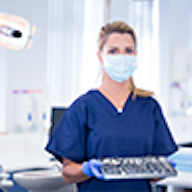 Dental Sterilisation Nurse
Dental sterilisation nurses play a pivotal role in the dental practice. They are responsible for cleaning the instruments used in procedures, keeping the environment clean and adhering to strict infection control guidelines. The proper sterilisation of equipment is an essential part of dentistry and it's the dental sterilisation nurse's job to ensure they provide their patients with the highest quality dental care.
Course snapshot
Qualification
Certificate IV in Dental Assisting
Delivery structure
Theoretical Elements:
Study the theoretical elements of this course, anywhere and anytime through our online learning platform.
Study load
8 course units to complete.
Submit 1 course unit every 6 weeks to graduate in 12 months.

Delivery Structure
Studying the Certificate IV in Dental Assisting with Foundation Education is flexible and can be tailored to suit your needs.
1. Theoretical
Study the theoretical elements of this course anywhere and anytime through our online learning platform.
8 course units to complete.
Completed online, at your own pace.
Resources Required
For the online part of the course, you'll need regular access to:
Computer: Laptop or desktop computer with working speakers or headphone points.
Internet: High-speed internet such as Broadband or ADSL, T1/T2, fibre optic (Dial-up access is not recommended).
Windows: Operating system – Windows 8 or above.
MAC: Operating system - OS X 10.14 Mojave or later.
Internet Browser: Google Chrome, or Microsoft Internet Explorer 11.
Software: Flash, Adobe Reader, Microsoft Word (or Open Office which is free to download).
Office Equipment:  Printer and scanner to print and upload some of your assessments.
Mobile Phone with Video Capability or Video Camera: Some assessments in your course may require you to take and submit videos of you undertaking tasks for assessment.
Units
Achieve your qualification by completing the following units of competency:
Certificate IV in Dental Assisting
Cost & Payment
You can pay for your course upfront via VISA/MasterCard or a bank deposit. Alternatively, we offer instalment plans that can be paid over several weeks or fortnights.
Your course fee includes
Delivery and assessment of your qualification
Study materials (including all resources)
Ongoing support from our Education Team
We offer two payment methods
Full fee upfront
Instalment plans
For more information about the course costs, please call us on 1300 616 197.
You May Also Be Interested In