Get qualified for a career in Practice Management 
Is it time to take your career to the next level? By undertaking the HLT57715 Diploma of Practice Management, you can gain the skills and qualifications you need to earn that promotion or apply for the senior practice management position you've always wanted!
As Australia's population continues to grow, more health clinics and facilities are required to keep up with demand. There is an ongoing need for qualified Practice Managers with the knowledge and experience to lead a health administration team. 
The HLT57715 Diploma of Practice Management will equip you with the leadership and management skills you need to advance your administration career in the medical sector. Throughout your studies, you will learn how to direct junior staff and achieve the business goals of your practice. As a Practice Manager, you will be responsible for organising and controlling the functions and resources of professional practices, such as administrative systems and practice personnel, while also managing the promotion and operations of small to medium-sized health practices. This includes managing patient records and accounts, ensuring work health and safety compliance and coordinating hiring, performance management and job training. You will learn to manage risk, implement infection control policies and, most importantly, deliver a high level of service to patients.
This nationally recognised practice management course is delivered by Foundation Education's online learning platform, My eCampus, allowing you the flexibility to tailor your online studies to suit your goals and lifestyle.
The HLT57715 Diploma of Practice Management is a Nationally Recognised qualification. 
Course Outcomes
The qualification gained from completing this practice manager course is nationally recognised, enabling you to upskill to leadership roles in health administration anywhere in Australia.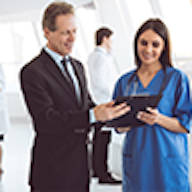 Practice Manager
The Practice Manager at a health or dental clinic is responsible for overseeing the business and administrative side of the practice. Their primary duties include supervising and recruiting junior staff, managing records, maintaining a database, processing payroll instructions and ensuring the overall smooth running of the practice.
Course snapshot
Qualification
Diploma of Practice Management
Delivery structure
Theoretical Elements:
Study the theoretical elements of this course, anywhere and anytime through our online learning platform.
Study load
15 course units to complete .

Complete 1.5 course units every month to graduate in 12 months. 

Delivery Structure
Studying the Diploma of Practice Management with Foundation Education is flexible and can be tailored to suit your needs.
1. Theoretical
Study the theoretical elements of this course, anywhere and anytime through our online learning platform.
Completed online, at your own pace.
Resources Required
For the online part of the course, you'll need regular access to:
Computer: Laptop or desktop computer with working speakers or headphone points.
Internet: High-speed internet such as Broadband or ADSL, T1/T2, fibre optic (Dial-up access is not recommended).
Windows: Operating system – Windows 8 or above.
MAC: Operating system - OS X 10.14 Mojave or later.
Internet Browser: Google Chrome, or Microsoft Internet Explorer 11.
Software: Flash, Adobe Reader, Microsoft Word (or Open Office which is free to download).
Office Equipment:  Printer and scanner to print and upload some of your assessments.
Mobile Phone with Video Capability or Video Camera: Some assessments in your course may require you to take and submit videos of you undertaking tasks for assessment.
Units
Achieve your qualification by completing the following units of competency:
Diploma of Practice Management
Cost & Payment
You can pay for your course upfront via VISA/MasterCard or a bank deposit. Alternatively, we offer instalment plans that can be paid over several weeks or fortnights.
Your course fee includes
Delivery and assessment of your qualification
Study materials (including all resources)
Ongoing support from our Education Team
We offer two payment methods
Full fee upfront
Instalment plans
For more information about the course costs, please call us on 1300 616 197.
You May Also Be Interested In