Teacher Aides play a significant role in the classroom, supporting teachers with tasks that allow students to get the most out of their education. But you may be wondering what exactly do they do?
That's why we've created this article to be your guide to the responsibilities of a Teacher Aide, their daily tasks, the skills required to succeed in the role and how you get qualified with Foundation Education.
What is a Teacher Aide?
A Teacher Aide - or Teaching Assistant - is a valuable asset in the education of young people who work under the direction of a teacher to support students' learning and development. They do this by applying teaching and learning strategies to help all students, particularly those with learning disabilities or disorders.
Daily Tasks of a Teacher Aide
A Teacher Aide's duties can vary depending on the kind of classroom environment they're employed in and the needs of their students. There is a lot of variation, and no two days are the same, which is what makes this profession so rewarding. However, a typical day will have Teacher Aides either spending time one-on-one with a student or circulating from student to student or group to group.
Below are some of the most important tasks a Teacher Aide will do to support the teacher:
Preparing teaching materials and learning resources

Attending staff meetings

Assisting with the organisation of classroom activities

Organise, clean, and store equipment.

Ensuring students are following the teacher's instructions

Update records of student progress and report to the teacher

Assist the teacher in organising excursions.
When supporting students, a Teacher Aide daily tasks may involve:
Supporting literacy and numeracy development

Supporting the development of cognitive skills

Supporting children's social and emotional development

Assisting students with learning difficulties

Supervise students inside and outside of the classroom.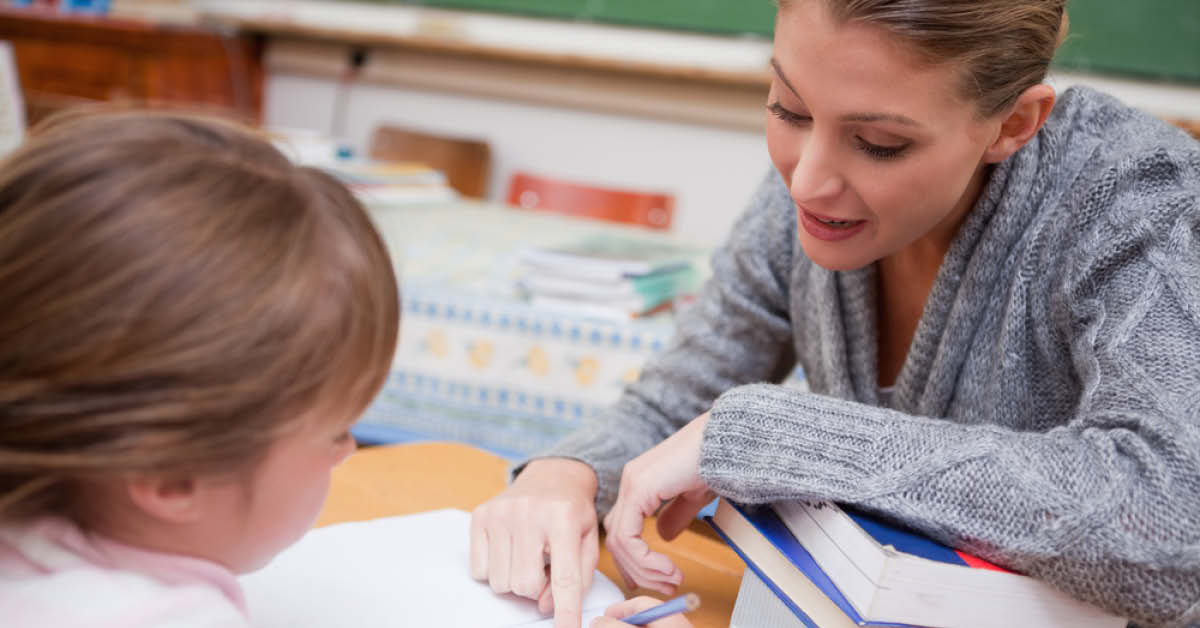 Skills Required to Work as a Teacher Aide
Any Teacher Aide job description will tell you that there are certain skills required to be successful in the role.
Enjoy Working with Children
Finding enjoyment in helping children learn is one of the most important attributes a Teacher Aide can have. From first graders to high school students, Teacher Aides work with children of all ages. Although supporting students in their educational journey can be extremely rewarding, it also requires plenty of patience and determination.
Organisational and Planning Skills
Keeping a classroom organised is far from easy, especially if it's a large cohort with diverse learning abilities. This is why it's important for Teacher Aides to be extremely organised. Advanced organisational skills are crucial for many teacher's aide responsibilities, including taking attendance, supervising exams, and organising events like teacher-parent interviews.
Effective Communication
Communicating with students, staff and parents is an important part of being a Teacher Aide. From providing clear instructions to speaking with parents about their child's progress, you'll need advanced communication skills for several professional obligations.
Computer Literacy
Technology plays an important role in classrooms these days, so you'll need to know your way around a computer, especially if you are going to be helping children learn with technology. So being familiar with word processing, presentation software and databases is essential for Teacher Aides, as these are all used to aid learning.
How to Become Qualified
By completing a CHC30221 Certificate III in School Based Education Support and CHC40221 Certificate IV in School Based Education Support you will become a fully certified Teacher Aide. This dual qualification will allow you to develop the skills required to support students in their education, including children with developmental issues. You'll graduate with the ability to encourage responsible behaviour in children in a safe and supportive learning environment.
What do Teacher Aides do to Support Learning?
While a teacher is focused on trying to get through a lesson before the bell rings, a Teacher Aide is focused on the kids. This will give you the opportunity to be the mentor that makes all the difference in a child's life, someone who sees and grasps a problem early. You can help get kids with anything from basic behavioural problems and learning difficulties to ADHD back on track and make a telling difference in not just their immediate schooling lives but their futures.
To be an effective Teacher Aide you must be able to implement a range of teaching and learning strategies, and that's exactly what you will learn when you study with Foundation Education. Below are some of the instructional strategies you will gain during your studies:
 Contribute to student education in all developmental domains (physical, cognitive, language, and social-emotional)

Support responsible student behaviour

Provide support to students with ASD (autism spectrum disorder).
For more information on kickstarting your career in education, please read our detailed guide on How to Become a Teacher's Assistant. If you would like to know more about our courses, enquire now with our friendly support team or contact us on 1300 616 197.